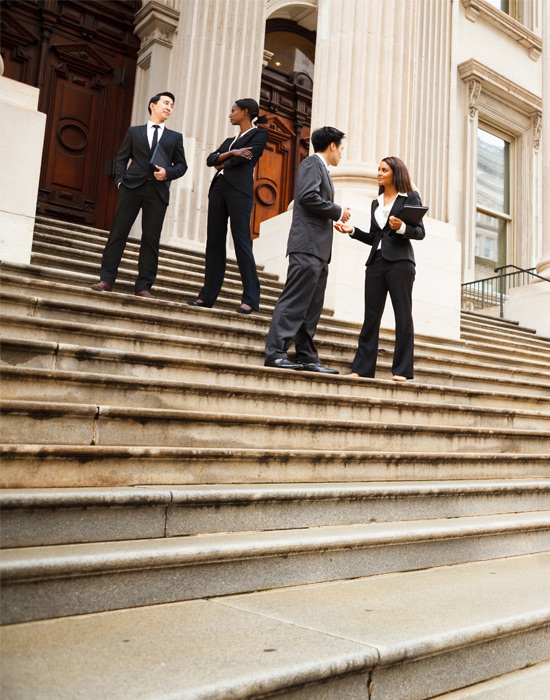 Our lawyers are fighting for our clients in court year round, covering the full spectrum of labor and employment issues, from discrimination, to retaliation, to wage payment and whistle-blowing claims. We have prevailed in federal and state courts throughout Pennsylvania, New Jersey and New York — and we handle our client matters in other states with the support of our vast network of employment lawyers across the country.
While we strive to avoid unnecessary litigation through settlement, mediation, and summary judgment, our lawyers are fearless trial lawyers. We have won verdicts on behalf of our clients in both state and federal courts, before arbitral panels, and at agency hearings on a wide range of workplace disputes, including age, gender, and disability discrimination, civil rights, wage and overtime, breach of contract, negligence, defamation, non-competition, and tortious interference claims. Our experience representing both employers and employees through trial uniquely positions us to achieve the right result for our clients whether that be early resolution, litigation on the merits, or settlement somewhere in between.
See our "Practice Areas" pages and "Representative Matters" for the full range of our experience.
Our lawyers also represent individuals and corporations who have been deprived of their civil rights in contexts other than employment, such as race discrimination in government contracting (a violation of 42 U.S.C. 1981). For example, we represented a technology company that was deprived of a public contract because of the race of its owners (reports indicated the decision-maker selected another contractor based on race). Through diligent advocacy over the course of nearly three years we obtained complete vindication of our client's rights, winning millions of dollars in lost profits, plus full payment of the client's attorneys' fees and costs.
Clients also come to us to handle a variety of other types of litigation in state and federal courts, including defamation, breach of commercial contracts, and legal malpractice.